Practices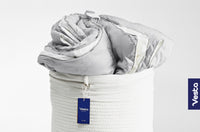 Duvet Packaging
Our duvet (and towel) arrives in packaging inspired by its origins, nature's most-industrious cocoon. We've created a woven basket that resembles the shape of the silk-winding cocoon. It comes with an interior fabric sackcloth and can be a reusable, beautiful laundry or storage basket.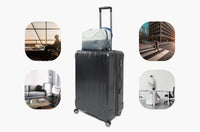 Blanket Packaging
For our blanket, we've created an expandable lightweight bag that can be easily transform to a reusable, beautiful everyday tote or yoga bag.
Reusable Packaging Design
More than Recyclable. They are reusable.
Our product packagings are beautifully designed and 100% reusable to eliminate the need for single-use package materials like paper and plastic.